Terme Selce is located on the beautiful coast of the northern Adriatic Sea and offers unique solutions for every person who cares about his health, wellness and joy, wants to improve his or her condition, and recover from illness or surgery. Our clinic was established in Selce, Croatia and is specialized in diagnosis and prevention, physical and rehabilitative medicine, and medical spa. Terme Selce is the best place where you can improve your health and also enjoy your holiday, as it is only 2.5 hours flying time from most European countries (the UK, Sweden, Finland, Denmark, France, Greece …). We offer to all our customers a free ride from the airport Rijeka to Terme Selce.
Ongoing professional development, teamwork and individual attention to patients, combined with the advanced technology, constitute the guiding principles of our operation to ensure optimum recovery for all our patients, achieved within the shortest time.

Our experienced and dedicated team of specialized doctors and therapists will help you find a new you.
In the course of two decades, since the establishment of Terme Selce, we have developed four main activities:
Clinic with diagnostic procedures
Center for physical and rehabilitative medicine
Sports and medicine center
Medical Wellness
Terme Selce offers physiotherapy and rehabilitation for all problems and illnesses relating to the musculoskeletal system, including physical therapy and rehabilitation and post-orthopedic surgery, knee and Hüftathroskopie and reconstruction of the anterior cruciate ligament (ACL). We treat all age groups. At Terme Selce, we help people who suffer from multiple sclerosis or cerebral palsy to improve their mobility.

In the last 15 years we have dealt with many top athletes, world champions and Olympic medalists, including the football players of the Croatian national team and skiers of the Croatian national team.
Here are the utility of our therapy programs are the expected effects:
Improving the state of the musculoskeletal system, agility and stamina improvement
Regulation of body weight and blood pressure
Improving concentration
Improving sleep quality
Restore mind and body balance and relaxation
Relief of chronic pain
Improving the appearance
Prevention of disability and improve quality of life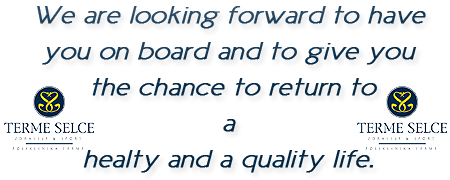 Categories: Medical Centers