Opening Doors to the World of Stem Cells.
We at StemOne take pride in being India's largest 'One Stop' stem cell service provider having Class 10,000, GMP facility dedicated for all aspects of stem cells.
About Stem One – Overview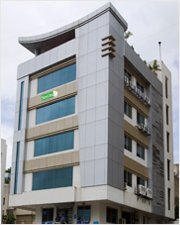 Established in 2005, it is currently India's largest 'one stop' stem cell service provider. Catering to a pan India spectrum of clinicians, hospitals and patients, Stemone is one of the fastest growing stem cell companies in India. Dealing with all aspects of stem cells, from cryopreservation to R & D and culminating in the field of therapeutics, the company stands on the cusp of an increasing demand for alternate modalities to treat degenerative disease. Working strictly in the field of autologous, adult stem cells, we strive to achieve standards that would be a benchmark in the field of regenerative medicine.
Company guidelines:
Stemone works within the boundaries of autologous adult stem cells. With stringent internal controls, a strong ethics committee and protocols designed in consultation with renowned clinicians, Stemone maintains the best quality of service in the stem cell industry.
Why Us?
we want to achieve an International presence in the therapeutics arena.
we want to develop a robust R & D program
we want to evolve continuously to integrate new needs in the field of regenerative medicine, tissue engineering and biopolymers, all as a means of improving quality of life.
Therapies Offered at StemOne
StemOne Biologicals Pvt. Ltd. is Maharashtra's first autologous cord blood bank, and a pioneer in cellular work in relation to cell based therapies. Stem cells are those miraculous entities that hold within them the answer to over 75 diseases and disorders. StemOne provides therapies for the following:
Cerebral Palsy

Autism

Cerebral Palsy with Mental Retardation

Stroke

Spinal Cord Injury

Osteoarthritis

Interstitial Lung Disease

Motor Neuron Disease

Diabetes Mellitus Type II

Kidney Disease, acute and chronic renal disease

Avascular Necrosis

Anti-Hair Loss

Anti-aging for wrinkle free face

Muscular Dystrophies

Parkinsonism
Our Team
Chaitanya Purandare – Chairman and Managing Director
A Master's in Medical Genetics from the University of Newcastle, UK, Diploma in Clinical Genetics from Mc. Gill University, Montreal, Canada and Diploma in Entrepreneurial Management from Judge Business School, Cambridge University, UK. Mr. Purandare is an entrepreneur with over 16 years experience in the field of Genetics. Founder of Stemone, he was responsible for starting India's second private cord blood bank and guiding the company towards its evolution as an integrated stem cell service provider. Under him, Stemone has grown in to a 42 employee company with a presence in India and abroad.
Why Health Tourism in India?
Without a doubt, India has become the medical tourism capital of the modern world. Offering the latest technological advances, experienced and expert physicians and surgeons and the very best in patient care, India has secured her place in the world as a premier medical travel destination.
Please Click here to request more information.
Categories: Medical Centers