WELCOME TO CAROLINA MEDICAL CENTER
We are proud to say that Carolina Medical Center is one of the biggest and most modern orthopedic hospitals in Europe, because it provides high standard medical services to each patient.
We use the newest equipment and technology but our highest priority is ensuring the utmost comfort and reassurance to our patients during their recovery.
We have an experienced team whose members handle a great variety of treatments and disciplines like orthopedics, rheumatology and neurosurgery. Each new case goes through a thorough analyze made by our team of experts, and it is only after this step that we select the best treatment, enabling our patients to recover quickly.

We have many of patients of all ages for whom we provide medical care, but most of all, we are concerned with those who live actively. After we make the diagnosis and apply the treatment, we secure the full recovery of each patient. This is very important to us because we know, for example, how crucial the recovery is for those who practice sports. Carolina Medical Center pays particular attention to the quality of care of professional athletes.
Our passionate doctors and physiotherapists are constantly improving their qualifications and developing their scientific expertise, to keep up with current developments in medical sciences. Carolina Medical Center in the first private clinic in Poland that the Ministry of health accredited, and the first clinic in Poland to have authorization for specializations and internships in orthopedics and locomotors system Traumatology.

Carolina Medical Center provides medical services and treats sports injuries of the Polish National Sports Teams. Our medical staff provided medical care to the Polish Olympic Teams during the London 2012 Olympics and will do the same during the Sochi 2014 Winter Olympics.
Carolina Medical Centers' health specialists were also members of the medical missions and took care of Polish sportsmen and sportswomen during championships and Olympic Games in Athens (2004), Turin (2006) and Beijing (2008).
OUR SERVICES
Our goal is to be an orthopedics and sports medicine center of the highest standards. Our success consists in embracing the patient with holistic care, from full diagnosis, through traditional and operative treatment to rehabilitation. Our doctors are leaders in orthopedics, traumatology, rheumatology, neurosurgery, rehabilitation and diagnostic imaging.
The Carolina Medical Center also gives physicians the opportunity to learn and apply the latest achievements in medicine and medical technology for the benefit of the patient.
Our services:
Consultations
Nutritional Medicine
Diagnostic Imaging
Diagnostic Centre for Physical Movement
Operations
Physiotherapy
Laboratory
Emergency Room Services
National Health Fund Services
ISO TQM CERTIFICATE
Apart from the tremendous number of satisfied patients treated, which we consider to be the best accomplishment, our specialists – leaders in their fields – have had papers published, appeared in hundreds of articles on Orthopedics and Sports medicine, many of them have given several public lectures on their subjects too. CMC is proud to have a medical team made by a long list of members of international sports organizations and committees. Subsequently, a comprehensive approach to medical care, and the research that goes into providing it, are the achievements that helped us to hold on to the Total Quality Management Certificate (ISO9001:2008) in Complex Medical Care since August 2004.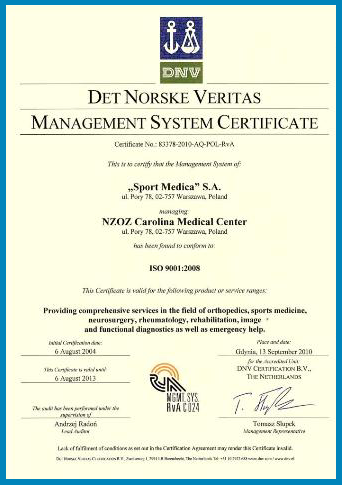 MEDICAL TOURISM
Carolina Medical Center has the quality certificate for foreign patient care and coordination from the Polish Association of Medical Tourism. This certificate proves that our center is prepared for great patient treatment and meets the worldwide standards of quality concerning medical tourism.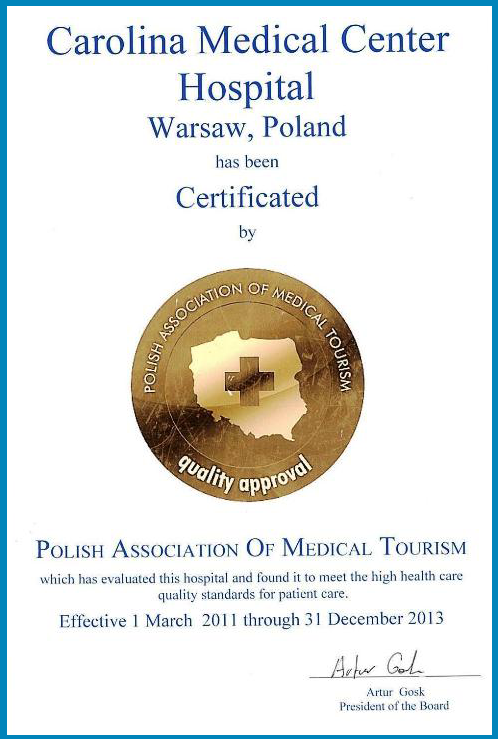 Categories: Medical Centers