Solution to Healthy Living at Bangkok Hospital Pattaya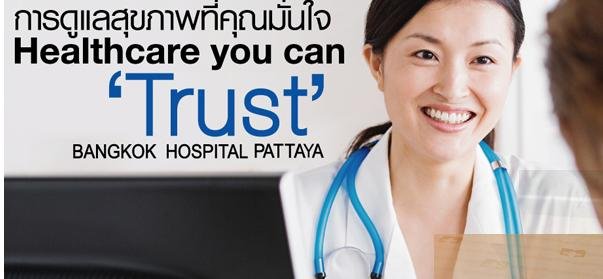 About Bangkok Hospital Pattaya
Since 1990, the Bangkok Hospital in beautiful Pattaya, Thailand, has served the needs of area and international patients in their 400-bed modern and well-equipped facility. As one of 19 separate locations overseen by Bangkok Dusit Medical Services, the hospital in Pattaya offers state-of-the-art technology combined with good old-fashioned compassionate care.
Pattaya has grown as a well-known and favored tourist and retirement destination for people from around the world, and it's not hard to see why due to the friendliness of the people, the excitement and wonderful foods, landmarks and history of the area.
Rooms ranging from presidential suites to private and semi-private well-appointed rooms meet the needs of patients as well as family and friends offering patient support. The hospital also provides meals, refrigerators, microwaves and televisions – think of a 4-star hotel and you get the picture!
Approach to Care at Bangkok Hospital Pattaya
Staff at Bangkok Hospital Pattaya continually strives to perfect their patient care and services, reflected in the growing numbers of pleased patrons who have experienced such care in the facility. "The hospital utilizes EMR [electronic medical records] for patients, offering near-seamless care of services between departments and even international medical experts. Some of the latest high-tech equipment offered at Bangkok Hospital Pattaya provide high-tech diagnostics and care through:
MRI

64-slice CT scans

Retinal tomography (OCT) scans

Picture archiving and communications systems (PACS)
About the Qualifications of Bangkok Hospital Pattaya
Bangkok Hospital Pattaya has received numerous awards, certifications and qualification ratings, including JCI (Joint Commission International) accreditation in 2009, the Medical Tourism Website Transparency Award in 2009, and multiple consecutive awards for Asian Hospital Management since 2004.
Bangkok Hospital Pattaya offers over 100 specialists and staff who speak 20 languages, striving to meet the needs of multi-cultural travelers visiting the hospital for care for:
Bariatric surgery

Cardiac care

Vascular surgery

Spine care

Orthopedics

Rehabilitation

and more
Traveling to Thailand for Medical Care
Thailand is one of the most popular medical tourism destinations in the world. Thailand's surgeons and health care facilities are known for superlative care in cosmetic, plastic, orthopedic and cardiac care surgeries as well as for their weight loss and obesity programs. In Thailand, physicians, surgeons and healthcare facility staff are held to rigorous standards of training and care. Offering all medical travelers the best that experience and expertise may offer, hospitals in Thailand and Bangkok health centers offer the best treatment centers to meet most needs.
Categories: Medical Centers