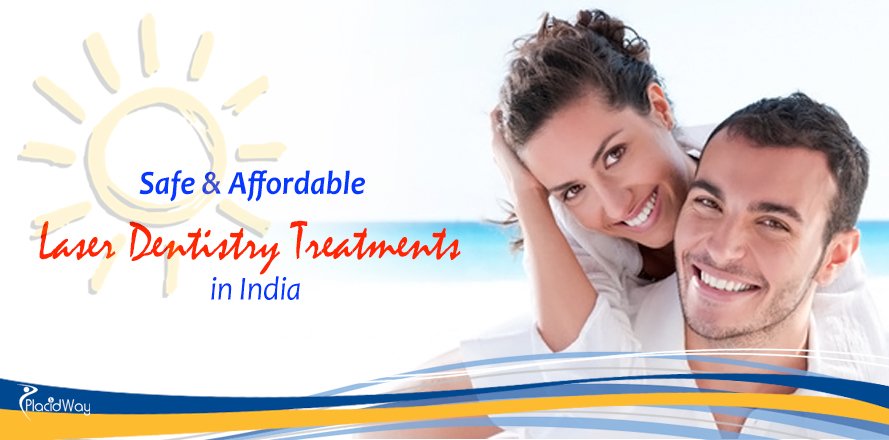 Imagine visiting your dentist for a surgical procedure, but going through it without any scalpels, needles and stitches. The laser treatment is a much more comfortable alternative to the traditional procedures as it requires less anesthesia. Also, the aftermath can be much more pleasant. Hospitals in India are known for their state-of-the art dentistry laser technologies. India has world's top-rated laser dentists who have years of experience and knowledge dentistry which include general, cosmetic and restoration dentistry.
Lasers have been used in dentistry since 1990 and there are more than 40 uses for it. Initially lasers were very expensive, but now they have become much cheaper, and portable models have increased its versatility. Laser is an acronym for "Light Amplification by Stimulated Emission of Radiation". Lasers have long been the standard of care in medicine for many surgical and cosmetic procedures such as LASIK, wrinkle removal, hair removal etc., and thousands of dentists around the world have performed millions of procedures with less need for shots, anesthesia, drills and post-op numb lips.
How Do Lasers Work in Dentistry?
Lasers can be used as a safe and effective treatment for a wide range of dental procedures and are often used in conjunction with other dental instruments. All lasers work by delivering energy in the form of light. When used for surgical and dental procedures, the laser acts as a cutting instrument or a vaporizer of tissue that it comes in contact with.
When used for "curing" a filling, the laser helps to strengthen the bond between the filling and the tooth. When used in teeth-whitening procedures, the laser acts as a heat source and enhances the effect of tooth-bleaching agents. Lasers are also used to remove decay within a tooth, to reshape gums and remove bacteria during root canal procedures, to remove a small piece of tissue (biopsy) so that it can be examined for cancer, to remove lesions in the mouth.
The application of lasers in dentistry opens the door for dentists to perform a wide variety of dental procedures they otherwise may not be capable of performing. Read more about "Laser Dentistry Procedures"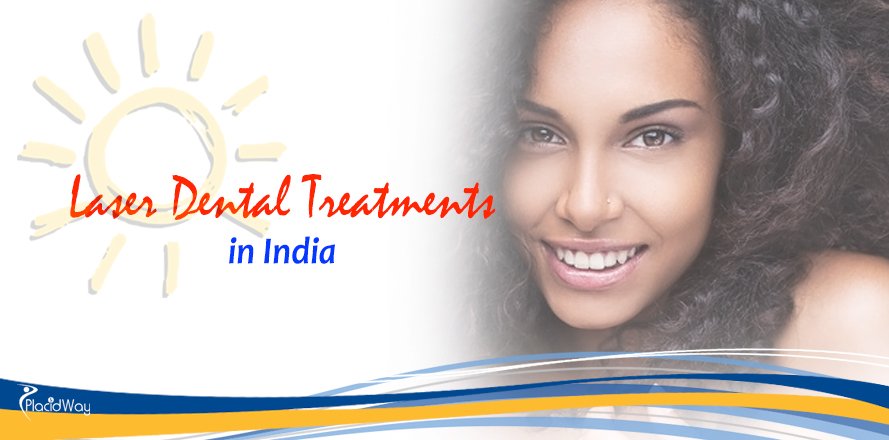 Laser Dental Treatments in India
The dentists in Indian hospitals work towards providing patients with the finest dentistry possible by making available the latest equipment and techniques. Most of the hospitals in India that provide dental care feature modern treatment options in the field of diagnostic, preventive, restorative, endodontic, periodontal, prosthodontic, oral surgery, cosmetic dentistry and dental implants.
Indian dental hospitals offer an unprecedented level of affordability for laser dental treatment and surgery with comprehensive clinical results in surgical, periodontal therapy, endodontic procedures and teeth whitening. Prices for cosmetic dentistry or smile makeover, crown lengthening, cyst operation, deep cleaning (scaling and root planing), dental fillings, flap surgery, gingivectomy, root canal, wisdom tooth extraction with laser assisted costs range between $25 and $1.000, but procedures such as Dental Diode Laser for gums treatment can cost $10.000 or more. Some of the common countries from which patients travel to India for surgery are USA, UK, Canada, Australia, New Zealand, Nigeria, Uganda, Sri Lanka, Bangladesh, Pakistan, Nepal.
Dental Clinics:
All Smiles, in Bangalore, provides contemporary dental care and compete oral rehabilitation including gum care, fillings, root canal treatment, orthodontic treatments,invisalign,lumineers, dental crowns and veneers, whitening of teeth and single or multiple tooth replacements with either implants, removable cast partial dentures, complete dentures and fixed bridges.
Dental Solutions Centre for Implants and Laser Dentistry, in Bangalore, is a private dental care oro-maxillofacial, implantology & Laser Centre. With the mixture of oral modern technology and devoted dental care specialists thay are dedicated in reconstructing your smile.
Smiles and More, in Bangalore, is an advanced speciality dental centre in Bangalore, with all modern treatment facilities and the latest in technology. Their forte is Orthodontics,Clear Aligners and Cosmetic Smile Makeovers.
Laser Dental Clinic, in Mumbai, offers a range of esthetic procedures ranging from simple to complex. All these procedures are meant to increase you self-confidence through a brighter and more beautiful smile.
If the dental laser is used by a trained practitioner, then it is as safe as other dental instruments. However, just as you wear sunglasses to protect your eyes from prolonged exposure to the sun, when your dentist performs a laser procedure, you will be asked to wear special eyeglasses to protect your eyes from the laser.
Source: http://www.placidway.com/article/1635/Safe-and-Affordable-Laser-Dentistry-Treatments-in-India
Categories: Dental Care, Dental Tourism Abroad
Warning
: Use of undefined constant PWP_NAME - assumed 'PWP_NAME' (this will throw an Error in a future version of PHP) in
/home/u255626122/domains/placidblog.com/public_html/wp-content/mu-plugins/mu-plugin.php
on line
148