Welcome to Istituto Prosperius!
Istituto Prosperius is an advanced diagnostic and treatment center focusing on rehabilitation for neurological, orthopedic, and sports medicine injuries and conditions. The Istituto comprises two fully equipped clinics in the Tuscany and Umbria regions of Italy. Istituto Prosperius was founded in 1973 as a multi-specialty medical practice offering diagnostics, rehabilitation, and medical-scientific research. Later, Prosperius expanded its services, with particular attention to innovation,  sophisticated diagnostic equipment, and evidence-based methods of medical and rehabilitation treatment.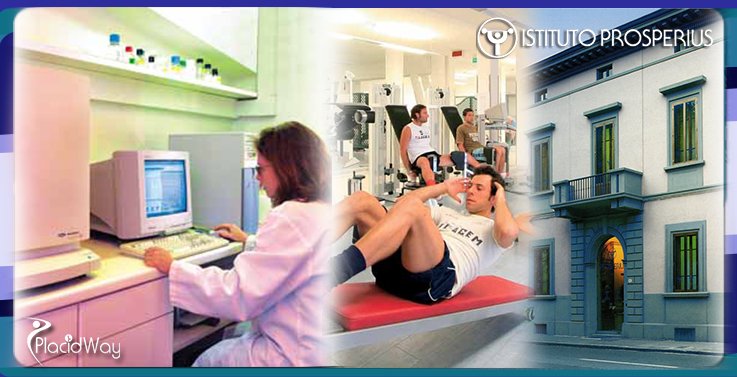 The Tuscan facility is located in the center of Florence, among the Renaissance buildings from the time when Florence was the financial and cultural capital of Europe. The clinic in Florence focuses on:
Diagnostics
Therapeutic medical treatment
Rehabilitation
Scientific research
The Diagnostic Unit has full laboratory services and imaging resources, including CT scanning and MRI. The treatment units offer innovative approaches to hormonal therapy, diabetes, genetic disorders, and cardiovascular disease. Rehabilitation for orthopedic, sports, and neurological conditions is offered to ambulatory patients. Prosperius physicians are leading practitioners of research, reporting their results and offering consultation in venues throughout Europe, the Middle East, and North America. Istituto Prosperius Tiberino in Umbria is a 111-bed rehabilitation hospital built in 1992 and located near centers of tourism like Assisi, Orvieto, and Perugia. The Tiberino facility is Italy's leading clinic for hi-tech robotic therapy for neurological conditions like spinal cord injury, stroke, parkinsonism, and multiple sclerosis.
Continue reading http://www.placidway.com/profile/1941/Istituto-Prosperius-%7C-Prosperius-Institute
Categories: Orthopedics Surgery Abroad, Rehab Centers Abroad