Welcome to InteraCells, Advanced Cell Therapy
About Us
In InteraCells we are dedicated to provide Advanced Cell Therapy for different and successful treatments for patients all over the world. Our variety of treatments is one of our principal characteristics.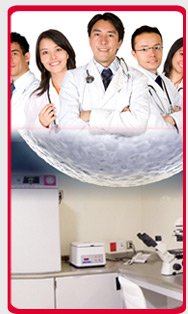 We are considerate a Pioneering Company which has developed the technology platform that allows you to separate somatic cell therapies in order to apply them in clinical research protocols, this is used in various diseases currently affecting humans.
We are proudly Mexican, and located in the city of Jalisco.
Our Institution, InteraCells, is constituted by a multidisciplinary group of doctors and biotechnologists. We are proud of the extensive experience of all our staff.
At InteraCells, isolation and cryopreservation of cell therapies is obtained from umbilical cord blood, chorionic of the placenta, fat tissue and endometrial.
All our Cell Therapies have the raw material from which derive all body cells, making these regenerating process of the body tissues consummate.
At InteraCells, we also give rise certain specialized cells such as:
Neurons,
Muscle,
Skin,
Cartilage,
Bone,
Among others.
This allows us to help with a variety of treatments for all oru patients.
InteraCells, as a leading technology institute, maintains available all the latest technology in cell therapies; we ensure the best and high quality service for all our patients, we are continuously seeking to contribute to all our patients enjoy of a better quality of life.

Our Cell Therapy
As you know cell therapies represent the break point of twenty one century medicine. This is the main reason because at InteraCells, we have created our cell therapy.
Cells Therapies have offered perspective and have changed the way we see every kind of diseases. The therapeutic possibilities are as big as the challenges that we face each disease entities. In a way we can say that our imagination and interest is our limit.

Nowadays only embryonic cells are those whose therapeutic utility remains in question, the cell therapies derived from adult tissues flooded by myriads in the scientific reports showing a Pandora's box, which is full of surprises and still discoveries left.
Currently, mesenchymal cell therapies can be isolated from tissues such as fat, bone marrow and menstruation, among others, have demonstrated a strong capability of cell differentiation, i.e. to give rise to various cells with different functions in our body, replacing to dying or damaged cells and reconstituting the damaged organ physiology.
Moreover, thanks to their ability of regeneration and anti-inflammatory capability, these cells represent an efficient opportunity to manage autoimmune diseases and chronic degenerative diseases.
The ability to obtain these cells has no risk to the patient or donor and the amounts of cells that can be produced in the laboratory are sufficient for long-term treatment.

Our Services

InteraCells makes accessible to this pioneering treatment to the whole population in order to be able to improve the quality of life and seek to stop and / or reverse the effects the disease has had on the patient.
We offer Cell Therapies for the following:
Chronic Degenerative Diseases:
Diabetes Type I and II,

Lliver Cirrhosis,

Pulmonary Disease,

Parkinson Disease,

Stroke,

Heart Disease.
Autoimmune Diseases:
Lupus,
Arthritis,
Spondylitis.
Infertility:
Low Responders,
Implantation Failure,
Endometriosis,
Testicular Activation.
Anti Age:
This treatment is for any Healthy Person who wants to improve their quality of life.

Choose to preserve your cord cells, and use our cell therapy to ensure the most advanced and secure techniques.


Categories: Medical Centers
Warning
: Use of undefined constant PWP_NAME - assumed 'PWP_NAME' (this will throw an Error in a future version of PHP) in
/home/u255626122/domains/placidblog.com/public_html/wp-content/mu-plugins/mu-plugin.php
on line
148